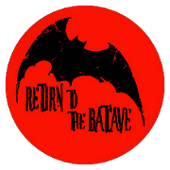 Sponsorship Package
Return To The Batcave is a total DIY event – we are looking for any way to raise money to meet our objectives, what's organization of this rad festival. We are also looking for independent sponsors – we can offer them in return of small financial & promotion support such Sponsorship Package which include:
Sponsor logo on posters and flyers – which will be spread worldwide, we will add also your logo on ticket-wristbands.
Sponsor logo and link on Return To The Batcave Festival partners page.
We can offer banner ad on Bat-Cave.pl webzine (www.bat-cave.pl) for over one year period (since now till 01.10.2019).
There is also possibility to put up your banner during Return To The Batcave Festival 2018.
What we expect?
Small financial support, at least 100€ donation and your help with promotion of Return To The Batcave Festival (if is it possible support with spreading flyers, info about our festival at your page, facebook etc.). If you have any questions feel free to contact with us: info@bat-cave.pl