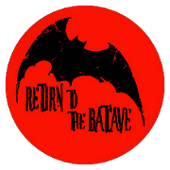 Return To The Batcave is total DIY independent event which promotes crazy, spooky and twisted music from the music genres known as post-punk, coldwave, deathrock, gothic-punk, gothabilly and other related weird and experimental music styles with its direct roots in the 80's of the twentieth-century, and whose common elements are art and good fun.
Gothic-punk movement is amazing visually and musically eclectic: combines into one the best and most fascinating music genres which have underground roots directly in the late 70's and 80's.
As with the previous edition of Return To The Batcave for a moment we would like to move back in time to the beginning of the 80's and bring the atmosphere of the legendary London's club Batcave.
First edition of Return To The Batcave party take place in 2008 in Wrocław (Poland) and after five years of activity we decide to expand formula of our event and organize festival with more and more rolling music.
As so far we hosted such bands like:
Hyoscyamus Niger
Genetiks
Psychoformalina
Strange Dolls Cult
Wieże Fabryk
The Proof
Devil's Starship
Nacht Und Nebel
Girls Overcome By Satan
Dead Sexy Inc
Krzyż:Kross
Ben Bloodygrave
Nihilista
Augen X
This Cold
Velvet Condom
Soror Dolorosa
Voyvoda
Lahka Muza
Golden Apes
The Spiritual Bat
The Last Days Of Jesus
The Cemetary Girlz
Ascetic
The Mescaline Babies
Joanna Makabresku
Popoi Sdioh
BA13
Luminance
Totenwald
Hatestory
Alles
XTR Human
Pornografia
Sierpien
13th Chime
Agent Side Grinder
Frank The Baptist
Eyaculacion Post-Mortem
Shadowhouse
Varsovie
Geometric Vision
Elvira And The Bats
Masquerade
Ash Code
Kandahar
Weird Candle
Aviaries
Undertheskin
Christine Plays Viola
Huta Plastiku
Der Himmel über Berlin
KatzKab
1984
Schröttersburg
Old Cat's Drama
Liste Noire
Bootblacks
Twisted Nerve
Wallenberg
Nova Et Vetera
She Past Away
Horror Vacui
Readership Hostile
All Your Sisters
Virgin In Veil
Double Echo
Dark Door
Telegram Frank
Diavol Strâin
Past
Ukryte Zalety Systemu
Výsměch?
Soviet Soviet
Skeletal Family
Charles De Goal
Honeymoon Cowboys (ex-Siglo XX)
Dirty Weather Project
Martyr Whore
Dystopian Society
Winter Severity Index
Selofan
Whispering Sons
Kælan Mikla
Plomb
Blood Bitch
European Ghost
Dear Deer
Second Still
Boy Harsher
Belgrado
Usé
Kadeadkas
The Doctors
Box And The Twins
Jessica 93
…and numerous DJs from all around the world.